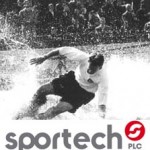 UK-based football pools operator Sportech today struck an acquisition deal with Scientific Games Racing (SGR) worth as much as $83 million. SRG is a subsidiary of Scientific Games, which itself recently combined forces with gaming software provider Playtech. This three-way partnership will make the newly-enlarged Sportech one of the world leaders in pari-mutuel betting.
Times Online: Football pools operator gambles on $83m US deal
Sportech, a football pools operator, today sealed an $83 million (£51.4 million) acquisition deal with SGR, a US-based pari-mutuel betting company.
The new deal will allow Sportech to provide technology to the tote-betting operators at half of America's racetracks, and will give them a direct window into tote betting operations in the state of Connecticut and the Netherlands.
Sportech is buying the business from Scientific Games Corporation for an initial sum of $65 million. Half will be paid in cash and the rest in Sportech shares issued at 50p. In the end, Scientific Games will hold a 19.99 per cent stake in the newly enlarged company.
Gaming software supplier Playtech also just announced a partnership with Scientific Games, and intends subscribe for shares as well. Playtech will emerge with a 9.99% stake in Sportech.
The acquisition comes shortly after Sportech's entry into the Indian market by means of a joint venture with the country's biggest gambling group.
Some are suggesting that the presence of both Scientific Games and Playtech together on the share register might spark merger speculation in upcoming years.
Sportstech chief exec Ian Penrose said: "If anything happens in the future, then we'll deal with it, but at the moment we've got our hands full making all of this work."
Financial Times: Sportech to buy US pool better
Sportech, a football pools and gaming business, just announced that it will soon be giving up close to a purchase one of the main providers of pool betting on horse racing in the US.
Liverpool-based Sportstech is paying $75m in cash and shares deal to acquire Scientific Games Racing (SGR), a division of the New York based gambling services provider Scientific Games.
SGR is the provider of pool betting systems for half all racetracks in North America, and is also the equivalent of the UK's Tote in the US state of Connecticut and Holland.
The deal involves a $32m cash payment along with the placing of $33m of new shares that will be purchased by Scientific Games, which will come out of the deal holding a 20% stake in the expanded Sportech.
Playtech, an online gambling software provider which last week forged a joint venture deal with Scientific Games, is also contributing £10m. This will give them a stake of just under 10 per cent.
Sportech hopes that through the deal, they will become a major player in pari-mutuel betting across the globe, with the help of the technologies and networks that its new partners provide.
Ian Penrose, chief executive, said: "The transaction leaves us as a leading business in the global pari-mutuel marketplace, with representation in Europe and in North and South America."
Mor Weizer, chief executive of Playtech, says: "We share many of Sportech's goals in growing our business in regulated markets."
Sportech shares dropped 2½p to 54p on Wednesday. Playtech shares fell marginally to 514p.
Reuters: Sportech buys SGR betting unit for up to $83 mln
British gaming company Sportech is to buy US racing and venue management business SGR from Scientific Games Corp for as much as $83 million in cash and shares as part of their drive to become a world leader in pari-mutuel betting.
Sportech will an initial $65 million in cash and shares, followed by $10 million in 2013, and up to $8 million more if SGR meets its targets over the next three years.
Pari-muteul or Pools betting is a sports gambling system where all bets are placed in a pool, and then payout odds are calculated by sharing the money in the pool with all winning bettors.
Piers Pottinger, chairman of Sportech, says: "This is a transformational transaction for Sportech. It catapults the business onto the international stage."
Internet gaming software company Playtech intends to buy a 9.99 percent stake in the enlarged group, and has already signed a letter of intent to provide gaming products and services to the SGR business.