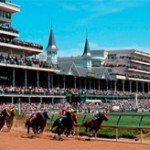 The people of Kentucky came very close to having a say in all gambling expansion issues in the state this week. Unfortunately the law proposal was conquered by the democrats in the state senate. It seems as though horse racing is going to remain the top form of gambling for the time being.
ABC News: Dems Kill Counter-Gambling Proposal in Ky. Senate
Thursday in Kentucky's Senate, Democrats killed legislation that would have given voters decision making power on all proposals that would expand gambling in the state. The measure received only 21 of the 23 needed votes, all from Republicans. The defeated measure was sponsored by Senate President David Williams, R-Burkesville.
The proposal called for an amendment to the state constitution that would've required all gambling issues placement on the ballot for Kentucky voters to accept or reject. The vote came during an election year in which 19 of 38 Senate seats could be up for grabs.
There are currently 2 different measures being processed in the Senate and House that would legalize slots at horse tracks without a voter referendum. Under those proposals, the state would sell gambling licenses and then tax the revenues from slots to generate $780 million over the next 2 years.
The House would use raised revenue on specific initiatives, including a massive school construction program that would create work for thousands of jobless Kentuckians. The Senate's version would put revenues into the general fund to help stave off budget cuts and potential employee layoffs.
Kentucky's political leaders have been reluctant to legalize forms of gambling, outside of horseracing.
Thoroughbred Times: Kentucky Senate does not pass Williams' VLT bill
This year, Republican State Senate President David Williams sponsored a bill that would have taken the issue of gambling expansion out of state lawmakers' hands by requiring state voters to approve any gambling expansion in Kentucky. The bill fell short of approval on Thursday.
Due to voting along party lines, the bill received a majority of votes at 21-16 but failed to acquire the needed 23 votes to reach the three-fifths standard for a constitutional amendment.
The horseracing industry opposed the bill because it would have added an additional step before tracks could add video lotteries. Kentucky Attorney General Jack Conway ruled that state lawmakers could approve adding video lotteries without voter approval, last year.
A Senate bill proposed this year would place video lotteries at racetracks to raise revenue for horse racing. Money from taxes and fees would be placed in the state's general fund as opposed to being targeted to any specific area.
WLKY: Democrats Kill Counter-Gambling Proposal In Senate
Democrats in the Kentucky State Senate failed legislation that would have allowed voters to have a say in all state gambling proposals. The measure needed 23 votes to pass but only received 21, all of which were from Republicans.
Sixteen Senate Democrats voted along party lines Thursday and defeated the measure which was sponsored by Republican Senate President David Williams, of Burkesville. The bill would have ruled that all gambling issues be placed on the ballot for Kentucky voters to accept or reject.
Pro-gambling state Sen. David Boswell, a Democrat from Owensboro, said Williams knew the bill had no chance of passage in the senate and sponsored it so that Republican challengers could make an issue of it in upcoming elections.