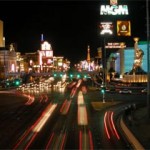 A Las Vegas based company called Cantor Gaming recently introduced a mobile gambling device that lets patrons of participating casinos wager on sporting events and play games like blackjack and baccarat while wandering around the casino property. Credits are purchased ahead of time, and a special security chip that players keep in their pocket makes sure no other users can access their device. It is quickly catching on, and Cantor hopes to expand the system throughout Vegas over the next few years.
The New York Times: In Las Vegas, Sports Books in a Pocket
In the past, sports bettors in Las Vegas had to line up at sports book windows and pay cash for paper tickets in order to place bets. At the M Resort, things work a little differently, and betting is happening through hand-held devices not much bigger than an iPhone.
The new technology comes from Cantor Gaming, and lets gamblers wager on sporting events from anywhere in the casino. Live betting is also available, letting gamblers wager on the outcomes of events as they happen.
Casino operators love the new system. "All of a sudden, these same people who were betting once or twice a game at the beginning of a sporting event can place wagers every minute if they want," says Anthony A. Marnell III, chief executive of the M Resort. "Having this technology changes the entire equation for everyone involved."
Bettors must still hand cash over to ticket writers, but the money gets converted electronic credits that show up on the wireless hand-helds, called eDecks (or in some places, PocketCasino). These devices can be taken almost anywhere in the casino. The only restriction is that bettors cannot use them while playing table games.
All eDeck users must obtain a plastic card with an ID chip embedded in it. The eDeck will only work within a few feet of that chip, so no other bettor can pick up the device and wager on another user's account. The devices were approved by the Nevada Gaming Commission in 2008, but are only now being rolled out to casinos.
Vegas News: Cantor Gaming Launches Mobile Gaming Throughout The Venetian and The Palazzo
Cantor Gaming announced yesterday that the PocketCasino, available at The Venetian and The Palazzo casinos in Las Vegas, is now offering casino games in addition to live sports betting. The PocketCasino lets gamblers play casino style games in most areas of the resorts, including the casino, bars, lounges and restaurants.
Cantor Gaming launched the PocketCasino sports betting system in September at The Venetian Race and Sports Book and Lagasse's Stadium at The Palazzo. PocketCasino now also gives players access to games such like blackjack, video poker and slots. These games offer special propositional bets that calculate odds dynamically based on the cards dealt.
President and CEO of Cantor Gaming Lee Amaitis said, "The inherent flexibility of the mobile platform provides a new type of social gaming experience, where a group of friends can sit together yet all be playing different games: blackjack, poker, slots or baccarat. And for casino operators, mobile gaming has shown it can convert traditionally non-gaming areas of the property into revenue-generating areas, resulting in incremental income for the property."
Robert Goldstein, president and COO of The Venetian and The Palazzo, added, "Pocketcasino gaming is the perfect way to enjoy the excitement of casino without missing the fun your friends are having at the bar, lounge, or in one of our amazing restaurants. It's a multitasker's dream come true."
Las Vegas Review-Journal: Sports bets at your fingertips
A live, mobile betting system called "PocketCasino" recently debuted at The Palazzo and The Venetian casinos in Las Vegas. It lets bettors place live wagers on sport events, like whether a team will make the next goal. Standard bets are also offered, like point spreads and money lines on selected games.
Las Vegas-based Cantor Gaming introduced it in the spring at M Resort during the NCAA men's basketball tournament.
Gregg Layman, a Palazzo patron from Panama, works for an online gambling website. Palazzo found the PocketCasino system to be similar to what online sportsbooks are offer.
"This is going to grow in popularity," Layman said. "I wish I could use it from home."
Another casino patron, Danny Tubiolo of New York, is hooked on the new system. "It's fun to bet if a kicker will make or miss a field goal," he said.
Mark Goldman, director of race and sports at the two casinos currently offering the PocketCasino, said that interest in the product is steadily increasing. "We have ambassadors working the room, handing out information," says Goldman. "Once people understand it, it's pretty easy to use. I think it adds to the excitement."
Customers check out the devices, place money on a special account. When finished, gamblers return the device and cash out. The device is active throughout the casino.
Cantor is the first company to bring hand-held wagering devices into Las Vegas casinos.