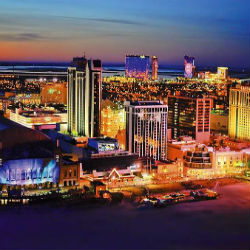 Over the past few years, economists and analysts have warned about the "casino saturation" in the north-eastern part of the US. Now authorities and business owners are witnessing the disaster and there's nothing they can do about it.
With growing competition from other states in the area, New Jersey's Atlantic City is in a desperate financial situation. There is no way out this time. The only thing left to do is to accept the defeat and close the resort's unprofitable casinos, one by one. Otherwise, authorities are considering rebranding the city and turning it into a destination that offers visitors more than just casino games.
Let's take a closer look at what recent gambling news have to say on the subject.
Philly.com: With casinos closing, Atlantic City considers future
About 2,100 employees received 60-day notices the next day, after Caesars Entertainment announced it was closing its Mardi Gras-themed casino, Showboat, by the end of this summer. The bad news comes only a few months after the Atlantic Club also went out of business and Revel is also likely to shutter if its owner doesn't find a new buyer.
"Atlantic City is undergoing a massive economic transition," Mayor Don Guardian said at a news conference Friday held at the site where a new nongaming attraction is being built. "We know it is painful for those who are losing their casino jobs."
Liza Cartmell, chief executive officer of the nonprofit Atlantic City Alliance, told reporters: "Recent developments in Atlantic City are part of the larger picture of excess gaming across the United States that's leading to painful economic decisions."
There are simply too many casinos in the country, industry experts say. Over the past ten years, 26 gambling venues opened in the Northeast corridor alone; a dozen of them are located in Pennsylvania and a new one is scheduled to open in Baltimore later in August. The development of the casino industry in the area has put an end to the monopoly enjoyed by Atlantic City for nearly three decades.
ABC News: Atlantic City Casino Shutdown Needed, Analysts Say
The number of casinos in Atlantic City could go down from 12 to 9 by Labor Day, as analysts say the resort has too many gambling venues.
"We know that the oversupply of gaming product is a regional issue, as we're seeing the effects of the pressure all around Atlantic City," says Israel Posner, executive director of the Lloyd D. Levenson Institute of Gaming, Hospitality and Tourism at Stockton College.
Atlantic City is going through a rough patch and Mayor Don Guardian believes a makeover will be difficult, but necessary. Officials say the time has come for the city transform itself and become a multi-faceted destination, where casino games are just one of the many entertainment options available.
"Although it is sad today, it's part of the transition that Atlantic City needs to have," the mayor told reporters. "There is pain as we go through this transition, but it's critical for Atlantic City to realize we are no longer the monopoly of gaming on the East Coast. If you build more and more casinos and don't increase the amount of people coming to them, you're sharing that wealth. We're just going through a very difficult time."
Boston Globe: Atlantic City sees our folly of casinos
The US Supreme Court struck down New Jersey's attempt to legalize sports betting and Atlantic City casinos are going out of business, despite Governor Chris Christie pumping $260 million of his constituents' money into one of the local casinos.
While Connecticut's Mohegan Sun and Foxwoods are considered interlopers who steal customers from the New Jersey resort, the story published in the Boston Globe says all players are "suckers, willing to part with their money for the house, because the house always wins."
Locals worry about Massachusetts casinos stealing even more business. The market is already oversaturated, they say, and Atlantic City is already competing with Vegas, Connecticut and Philadelphia.
The Guardian: Atlantic City shutters casinos as north-east US builds gambling market
It's becoming more and more obvious that there are too many casinos in Atlantic City. Competition has caused the Atlantic Club to close its doors, Revel says it will do the same unless owners find a new buyer and Caesars Entertainment is giving up on the Showboat.
During his five years in office, Mayor Don Guardian saw a quarter of the city's casinos close. He believes this is a sign that Atlantic City needs a makeover, from a popular gambling resort to a multi-faceted destination instead.
Over the past seven years, casino revenue in the city has plunged from $5.2 billion to almost half that amount, reaching just $2.86 billion in 2013. Meanwhile, Pennsylvania surpassed Atlantic City as the country's second largest casino market after Nevada. And with New Jersey's new laws allowing locals to play casino games and online poker tournaments, profits soared even more.
All this sounds like bad news, but Fitch Ratings has a different opinion, claiming that "the closure makes financial sense for Caesars and is a positive for the oversupplied Atlantic City market." According to the expert, Caesars will regain lost customers at its other resorts in the area.
CityLab: Atlantic City Is Becoming the Detroit of Casino Culture
At the beginning of the year, when the media argued that Atlantic City could be going the way of Detroit – which suffered a big shock after being forced to shut down gambling venues – State Senate President Stephen Sweeney and Chris Christie both promised they would not let the city "become Detroit". Now, the resort is facing a wave of casino closings.
Former casino workers are furious over losing their jobs and Bob McDevitt, president of Local 54 of the Unite-HERE union, told reporters that Caesars' decision to shut down the Showboat was "a criminal act", as the venue was still making profit.
To help former employees find new positions within the company, Caesars promised to give them preference for existing roles at the company's other three Atlantic City venues.