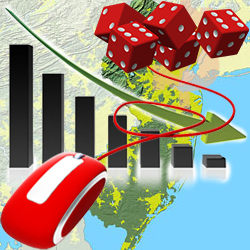 Since introducing online gambling to its residents, the state of New Jersey has not been able to achieve the financial results that they hoped for. Internet gambling was legalized in efforts to help the ailing economy, but has so far shown no signs of improvement.
New Jersey Governor Chris Christie has previously asserted that the industry will generate substantially more than what the current reality shows. In efforts to boost the online gambling industry, he was been trying to add an online sports betting service to the current offer, but nothing has come to fruition so far.
New York Business Journal: New Jersey's online gambling flop threatens the rest of the state's spending
A month ago in May, New Jersey Governor Chris Christie predicted that the state would see an inflow of $180 million during this year from taxes associated with online gambling operations. Considering that the state is estimating much smaller figures closer to $12 million, the Governor's predictions were highly overvalued.
According to gambling news, the whole New Jersey gambling scene doesn't have very good prospects for the future. The state's overall casino industry is currently experiencing an economic slump, as many gaming facilities are not achieving expected results.
The online gambling sector is not performing as anticipated due to certain challenges. Some banks do not allow their clients to use their credit cards for internet gambling purposes, making it difficult for players to gamble with their money.
The biggest problem stems from the fact that some reports indicate that New Jersey has an illegal online gambling market which is valued at over $400 million a year. This may prove to be a great obstacle for legislator trying to implement changes to their online gaming market, by adding sports betting to their ranks.
Bloomberg Businessweek: Online Gambling Slump Adds to Christie's N.J. Budget Woes
New Jersey initially saw a decline in revenues in April, just months after starting their online gambling industry. The decrease in online traffic is not the only gaming sector suffering a gradual revenue decrease. Casinos in Atlantic City have seen their revenues drop a massive 44% since peaking in 2006.
The state has high investments in Atlantic City, as it depends on the coastal town to provide jobs, attract tourists and most importantly taxes. The current economic climate will see the state government receive considerably less than initially expected.
Online mobile news reports that New Jersey is hoping to get $12 million from taxes, an amount that is substantially less than what the first projections claimed. Governor Christie believed that they could fetch somewhere around the $180 million mark form imposing the 15% internet gambling tax, however that figure now seems like a distant dream.
The chief operating officer of the Borgata Hotel Casino & Spa, Tom Balance, commented on the unlikely turn of events for the industry. "I don't think anyone had the crystal ball to predict what the market would be."
The Republic: New Jersey's Internet gambling revenue falls again in May; industry struggling after 6 months
Following the first disappointing results in April, New Jersey has not managed to see an increase occur over time. Instead, online gambling revenue has been declining for two consecutive months.
Atlantic City's casinos first showed signs of a bad economy when some of them started closing down. The Atlantic Club shut down operations in January, which served as a precursor of the state of the market. Additionally, casinos in Atlantic City recorded a 3.1% revenue decrease as compared to a year before.
Online gambling was introduced as a way for the state to create additional tax revenue sources, as other sectors of the market were not performing well. Governor Christie assumed that the overall value for the first year of online gambling operations would amount to over $1 billion.
However, many Wall Street analysts disagree with his estimates, as they anticipate to find gambling results far lower than $1 billion. They forecast the industry to generate somewhere between $200 million and $300 million for the year. Up until now gaming companies have managed to only make $61.9 million, a figure that is far below the projected results.
Nj.com: Online gambling hits wall in NJ 6 months after launch.